DCA Airport Parking
Compare On-Site vs Off-Site For Best Rates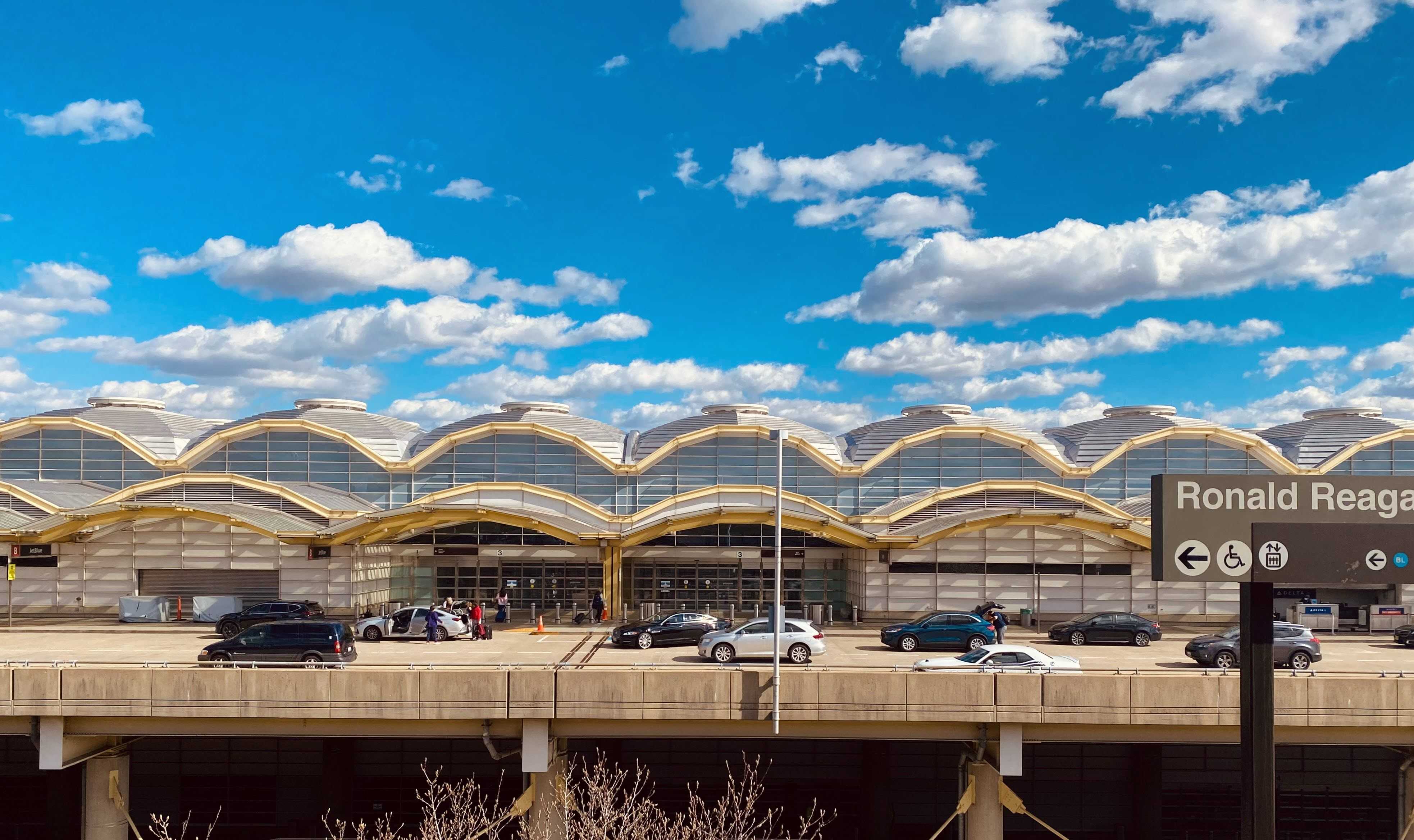 DCA Airport Parking Overview
Ronald Reagan Washington National Airport (DCA) is equipped with ample parking facilities to serve its passengers. The parking infrastructure can accommodate over 8,500 vehicles, providing a range of options for travelers' parking needs.
DCA Parking Partners
Crystal Gateway Marriott (0.8 miles from Airport)
The Marriott is just under a mile away from DCA, making it a very convenient place to park your vehicle if you're flying in or out of Reagan National. The Marriott offers numerous amenities, including covered parking, luggage assistance, 24-hour access, online reservations, and so much more. The Marriott offers both short and long-term parking options at reasonable rates, with prices starting at around $12 per day.
Park and Stay Hotels
If you have a really early or late flight, sometimes it is a better idea to stay at a hotel AND take advantage of cheap airport parking at the hotel. At DCA this option is available at the following hotels (subject to availability for your dates):
Doubletree by Hilton Washington, DC
Best Western Washington National Airport
Hilton Crystal City
Sheraton Suites Old Town Alexandria (2.3 miles from Airport)
While not as close to the airport as The Westin and The Marriott, Sheraton Suites offers guests with tons of features and amenities, such as 24-hour security, indoor garage, free WiFi, wheelchair access, and EV charging. If you are looking for a top-rated parking space to leave your vehicle before your flight, Sheraton Suites is an excellent choice.
Westin Crystal City (0.8 miles from Airport)
The Westin has convenient and free airport shuttle service to and from DCA, and a hotel reservation is not required to park here for your trip. . It is located just under 1 mile from the airport. Don't be concerned about the weather, because the Westin parking is all underground. Have a large vehicle? No problem - there are no extra fees for larger vehicles like pick up trucks or larger SUV's.
Check Rates & Availability
Reserve Your Parking Space at DCA
DCA Parking FAQ
What is the most affordable DCA Airport parking facility available?
The cheapest available rates for long-term parking on the above-mentioned parking facilities are around $8-$9 per day (park only).
Is there a cell phone lot for parking at Reagan Airport?
At the time of this writing, the DCA cell phone lot is closed due to construction. However, you can use Parking 1 & 2 for 60 minutes of free parking.
How far is the nearest long-term parking facility from DCA Airport?
The nearest long-term parking facility from DCA is Crystal Gateway Marriott, which is about 0.8 miles from the airport.
Where can I find electrical vehicle charging stations at DCA?
Located in Parking 2 (ground level), you will find spaces marked with "electric vehicle charging only" signs. There are over 60 charging stations here.
Who can I contact in case of an emergency or a vehicle-related issue?
Please call 911 for medical or other emergencies. If you are towed or mischarged, or have non-emergency needs you can call 703-417-4300.
Do park and stay hotels offer free parking?
Many Park & Stay hotels near DCA offer free parking for between one and two weeks, when you book room(s).
Do the off-airport lots offer airport shuttle services?
Yes, but with a few exceptions. It's best to check with each facility to see if they provide shuttle service to DCA, and their shuttle schedule to and from the airport terminals.
Can I choose the type of long-term parking option for my vehicle?
In most cases, you can choose between self-park covered or uncovered and valet covered and uncovered.
Reagan National Airport Parking Map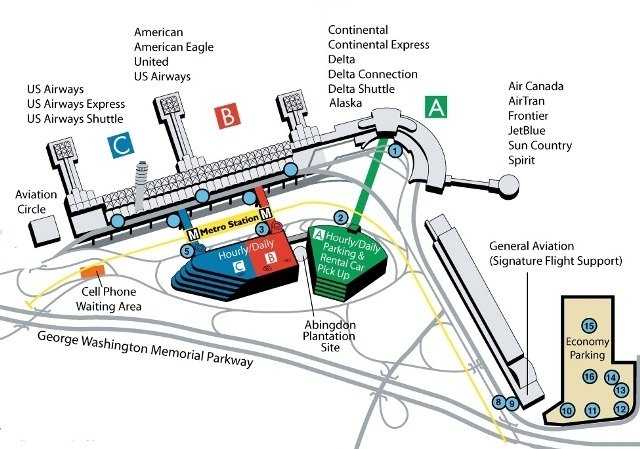 DCA Airport Parking Overview (Continued)
On-Site Parking Options at DCA
Parking 1: This facility is ideal for those flying with Air Canada, Frontier, and Southwest. It is connected to Terminal 1 (Gates A1-A9) via an underground walkway and offers shuttle service to all terminals. The entrance to Parking 1 is on the West side of the airport, providing access to levels 4 and 5, which are designated for public parking. This garage has a vehicle height clearance of 7ft.

Parking 2: Serving airlines such as American, Alaska, Delta, JetBlue, and United, Parking 2 is linked by covered walkways to Terminal 2 (Gates B10-E59). Electric Vehicle Charging Stations are available on a first-come basis on the ground level of this garage. The vehicle height clearance for this garage is 8ft 2in.
Both parking facilities offer a daily maximum rate and an hourly rate for short stays. There is no minimum or maximum length of stay, but vehicles left for more than 45 days must be registered with the parking office to avoid being towed.
Ways to Pay
Parking at DCA can be paid for using various methods:
Use pre-pay machines in the terminal with your parking ticket to save time, and exit through any "Prepaid" lane.
Keep your parking ticket in your vehicle and pay at a "Cash" or "Credit" exit-lane booth upon departure.
For those who reserved parking in advance, enter and exit the garage using the QR code included within your reservation confirmation for a quick departure.
Forms of payment accepted include cash and major credit cards such as Visa, Mastercard, and American Express.
Off-Site Parking Options
For those seeking alternatives to on-site parking, there are several popular off-site parking locations:
Crystal Gateway Marriott
Park and Stay Hotels
Westin Crystal City
Sheraton Suites Old Town Alexandria
Enjoy a stress-free parking experience by reserving your space in advance and taking advantage of the real-time parking slot availability updated on the DCA website.
DCA Parking – Onsite Rates
Updated 11-7-2023 by Jonathan Smiley
Below is a quick overview of the DCA on-site parking rates. Keep in mind that the rates may change without any prior notice. Hence, you can always check the DCA website to see the current parking rates.
The long-term parking rates at DCA vary depending on the parking garage:
Parking 1 and 2 (Terminal A, B, and C Garages)
Hourly Rate: $6 per hour
Daily Maximum: $22 per day at Terminal A, $25 per day at Terminal B and C
Economy Lot
DCA Short-Term Parking
For short-term parking at DCA, the first 60 minutes are free. After that, the hourly rate of $6 applies across the various parking areas.
Note: Parking rates are subject to change. It's recommended to check the DCA website for the most current rates before traveling.